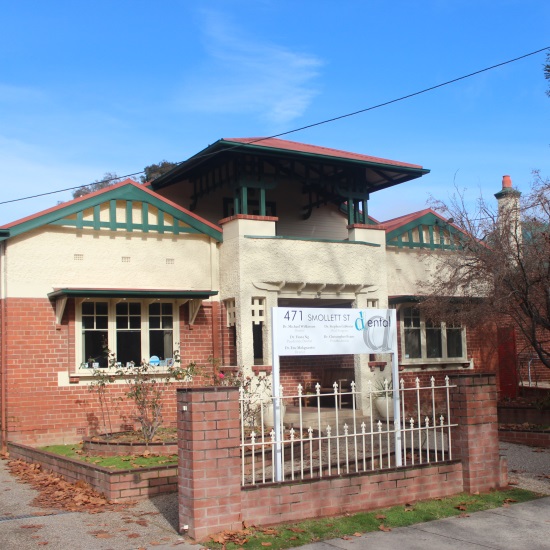 Smollett St. Dental,
Caring about your health.
At Smollett Street Dental, we care about you and your oral health.
We offer a wide range of general dentistry, as well as veneers, crowns, bridges, teeth whitening, mouthguards and more.
Our friendly staff can assist you with your enquiry and put you in the right direction to your perfect smile!
Why choose Smollett St. Dental?
Easy booking
Our friendly staff are ready and waiting to assist you with making your appointment. All it takes is one phone call and you're all set!
Experience
Our dentists have years of combined experience in a variety of aspects of the dentistry field. You can rest assured that they will be able to answer any questions you may have, and help in any way possible!
Reliable schedule
We pride ourselves on ensuring that we are always on schedule with our bookings and appointments so that your time with us is a non-stressful and non-disruptive visit to your busy lifestyle.
Friendly service
Our team provide the highest level of service, making all of our customers smile like never before!
Benefits and Payment Options

Child Dental Benefits Schedule


The Child Dental Benefits Schedule (CDBS) is a government based schedule that can cover the full cost of dental treatments for children between the ages of 2 and 17 years old.
This scheme covers up to the amount of $1,000 for up to two years, whichever comes first.

The Department of Health Services assess a child's eligibility by means testing. If a child is covered by the CDBS, Medicare will advise you. If you are unsure if your child is covered, our friendly team can find out for you.

Openpay


Smollett Street Dental now accepts Openpay as a payment option for your dental treatment.
Speak to us today to see if Openpay is the right choice for you.

Private Health Insurance


Smollett Street Dental accepts all private health cards if your policy includes dental.
We can also quote prior to your upcoming appointment so that you know exactly how much your health fund will cover.
We are here to help!
We offer a wide range of procedures to help you get the perfect smile. Contact us today to book your appointment.